Approved projects within the 1st Call of the Small Project Fund SKHU/WETA/1801
22. February 2019
---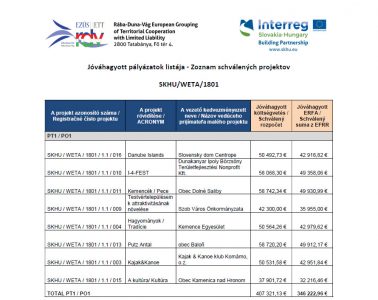 The 2nd Monitoring Committee of the Small Project Fund was held on 1st February 2019 in Budapest.


The meeting was chaired by Ema Vasiová, the director of the EGTC of Rába-Duna-Vág and the chair of the Small Project Fund Monitoring Committee. The representatives of the Managing Authority of the Interreg V-A Slovakia-Hungary Cooperation Programme, the representatives of the National Authority, the representatives of Trnava Self-governing Region, Nitra Self-governing Region, Bratislava Self-governing Region, Komárom-Esztergom County, Győr-Moson-Sopron County, Pest County, Municipality of Budapest and as observers the representatives of the Joint Secretariat participated in the meeting.


The most important agenda of the 2. meeting was the approval of the projects submitted within the first pilot call of the Small Project Fund. The members of the Monitoring Committee were discussing the finalization of the documents related to the implementation of small projects and the documents of the following SKHU/WETA/1901 call.


During the meeting, Ema Vasiová had a presentation about the 1st Pilot call of the Small Project Fund, about its negative and positive sides and about statistics and useful experiences.


The list of approved projects was published.